Touchstone Standard
RF Spectrum Analyzer Software for RF Explorer (Cost: $0 USD -- Free)
Touchstone software turns data collected from RF Explorer spectrum analyzers into highly graphical charts and displays, enabling users to more readily visualize the RF environment, monitor RF signals, troubleshoot RF issues, and detect sources of RF interference.
In addition to running as a standalone, handheld device, RF Explorer can be connected to a PC where software (e.g. Touchstone) is used to provide enhanced functionality and data analysis. The connection is made using a mini USB cable. (NOTE: A high quality USB cable should be used in order to limit EMC interference from the PC that could influence your measurements.)
Touchstone runs natively under Windows and MacOS architectures -- both Intel x64 and Apple Silicon (M1/M2). When you register a license key it becomes associated with the serial number (S/N) of a specific RF Explorer device and NOT a machine. As a result, you can install the Windows and MacOS software on as many machines as you like.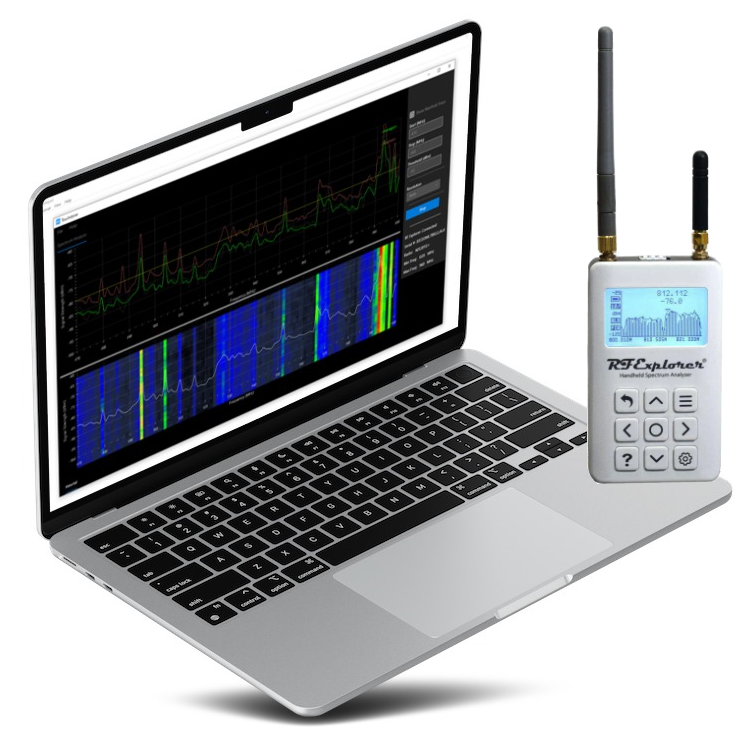 Touchstone offers diagnostic views of the data captured by the RF Explorer device. Employing multiple views of the data enhances your ability to gain a better understanding of the local, RF landscape.
The RF Explorer hand-held spectrum analyzer is an amazing and unique device. Combined with Touchstone software you now have an RF diagnostic tool unmatched in price and performance. Armed with the ability to monitor RF signals, detect RF interference and view all RF activity that occurs in your environment, solving wireless problems just got a whole lot easier.
Free License Key & Download
The Touchstone Standard software is free -- however, it does require that you acquire a license key by going through the normal checkout process. No credit card information is collected -- only an email address to send the license key to. There is no limit to the number of installations -- however, each RF Explorer device (i.e. serial number) requires its own license key.
| Touchstone Standard Software | |
| --- | --- |
| | Free ($0 USD) |
| Digital license key for software registration. | |
| Download Windows | |
| Download MacOS (Apple Silicon) | |
| Download MacOS (Intel Core) | |
| Purchase RF Explorer Instrument (World-wide Distributors) | RF Explorer |
Spectrum Trace View
Continuously scans and samples the signal strength (dBm) of frequencies in the range the user has specified. In the 'Spectrum Trace' view the signal strength data (in dBm) is displayed as a function of frequency. Both LoRes and HiRes views are available.
Low Resolution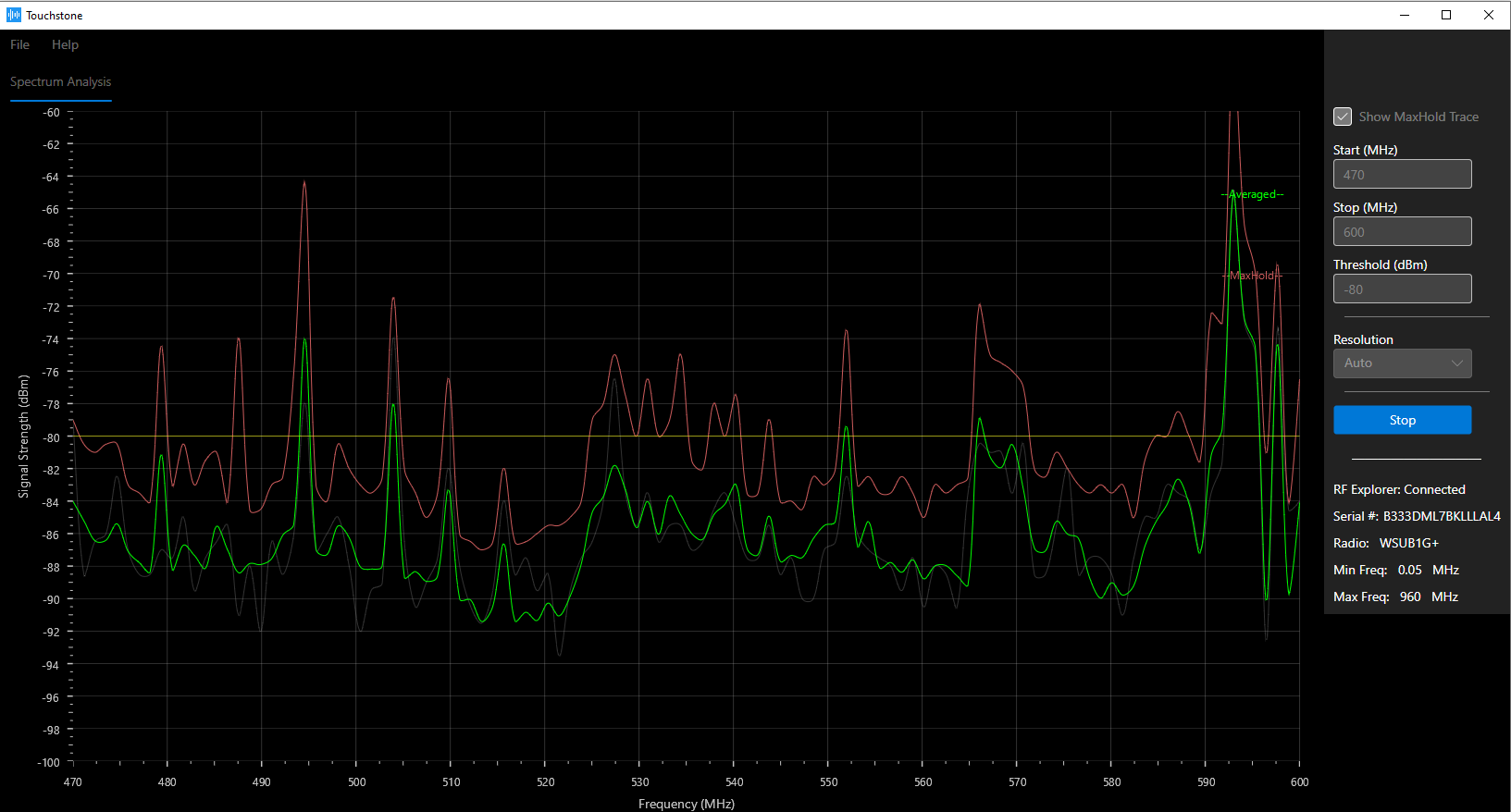 High Resolution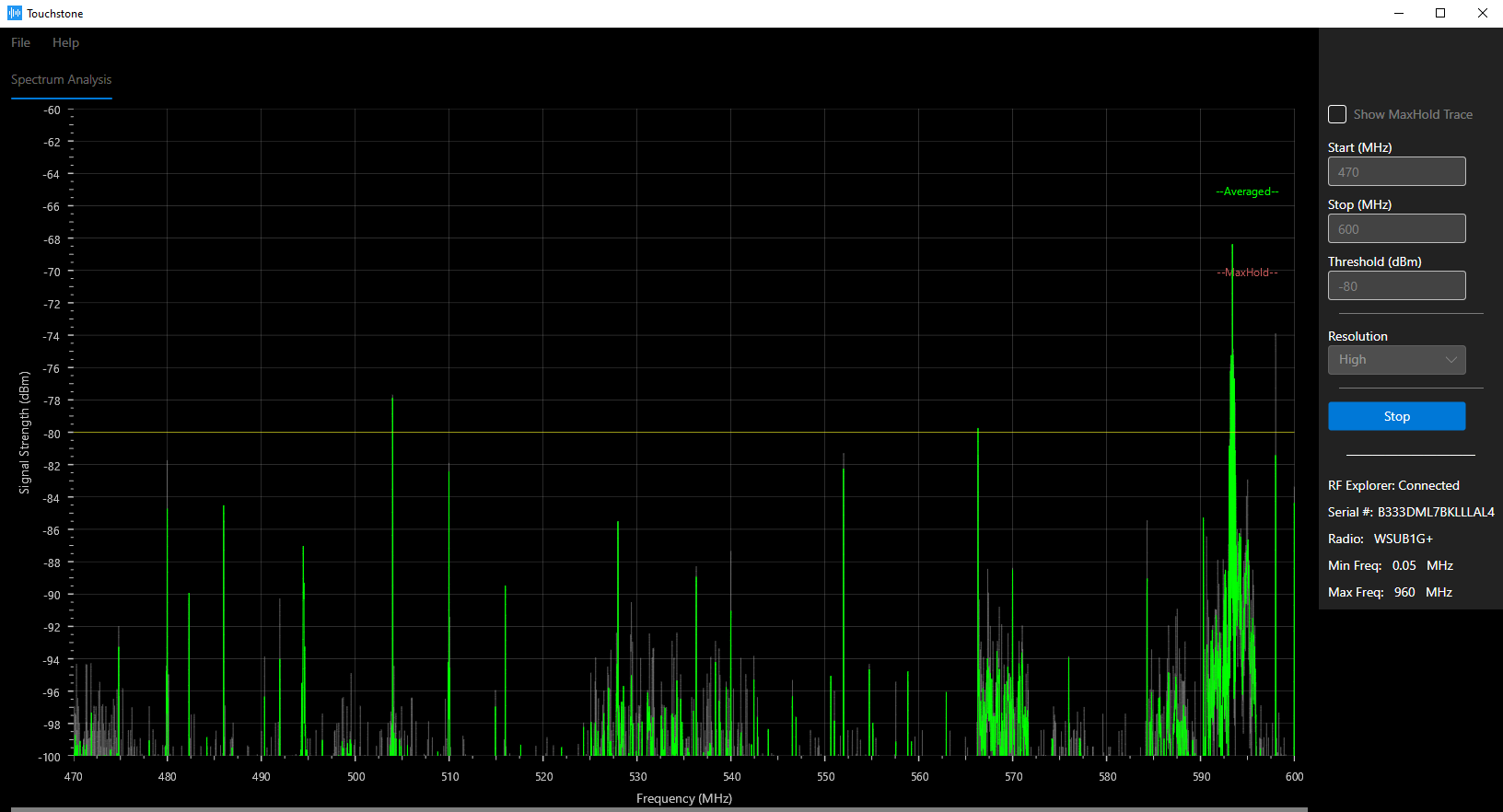 Waterfall History
Provides a color-based visualization of the RF level and activity over time. As signal levels for specific frequencies or frequency ranges increase and decrease, the waterfall map varies its colors. This feature provides a quick glance back into the sweep history to identify aberrations or fluctuation in frequency levels.