RF Spectrum Analyzer and Frequency Coordination Software
Clear Waves is a diagnostic tool specifically designed for the wireless professional audio and video industries. It is the industry's first, PC-based tool to offer RF spectrum analysis, intermodulation analysis and automatic charting of open white space (open RF frequency) for use with wireless microphones, in-ear monitors, remote control, security, access control, etc — all built into a single product. Clear Waves' unique combination of features — RF spectrum analysis plus intermodulation analysis — make it an extremely versatile and powerful tool, one that extends beyond the bounds of traditional RF analyzers.
Feature
Supports All RF Explorer Models
Yes
Supports Signal Hound RF Analyzer
Yes
Simulation (Demo) Mode
Yes
Built-in & User-Defined Profiles
Yes
Save Traces in XML or CSV Format
Yes
Generate PDF Reports
Yes
Intermodulation Analysis
Yes
Monitored Frequencies Mode
Yes (160)
Compare Two Traces
Yes
Show Reference Trace
Yes
Number of Diagnostic Charts
5
>>>>> RF Spectrum Trace
Yes
>>>>> Heatmap / Waterfall Display
Yes
>>>>> Density Chart
Yes
>>>>> Delta Trace
Yes
>>>>> Intermods & White Space
Yes
Default View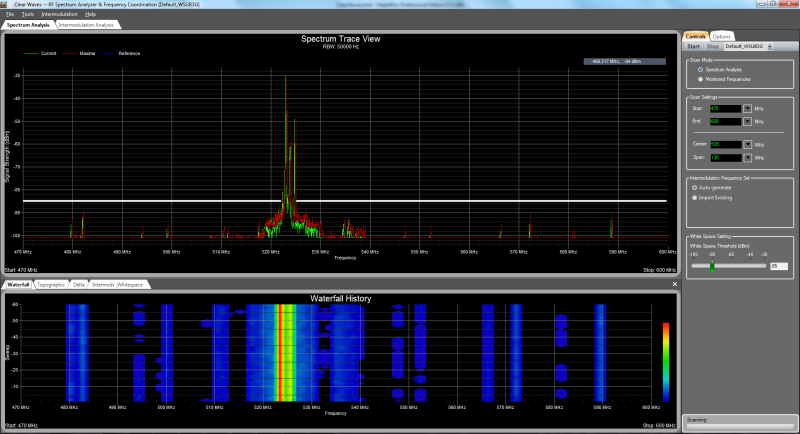 Clear Waves features two different Scan Modes: Spectrum Analysis and Monitored Frequencies.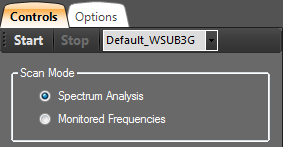 When set to Spectrum Analysis mode, Clear Waves scans the specified frequency range and displays a spectrum trace — that is, a chart with RF Signal Strength along the Y-axis and frequency along the X-axis. It also displays the data using a variety of diagnostic charts: Waterfall History, Density Chart, Delta Chart, and Intermods & Whitespace. The Intermods & Whitespace chart, in addition to displaying the RF spectrum trace, presents a visual representation of an intermodulation-compatible frequency set.
Using the Monitored Frequencies scan mode, Clear Waves displays the RF energy detected at (up to) 160 specific frequencies defined by the user. For example, in the setting of a live performance where it is important to monitor the channels that have been assigned to wireless audio devices, the Monitored Frequencies feature can be used to ensure those channels are not being impacted by other sources of RF transmissions.
Diagnostic Charts
RF Spectrum Trace
Waterfall History / Heatmap
Monitored Frequencies
White Spaces and Intermod-Compatible Frequencies
Density Chart
Delta Trace
RF Spectrum Trace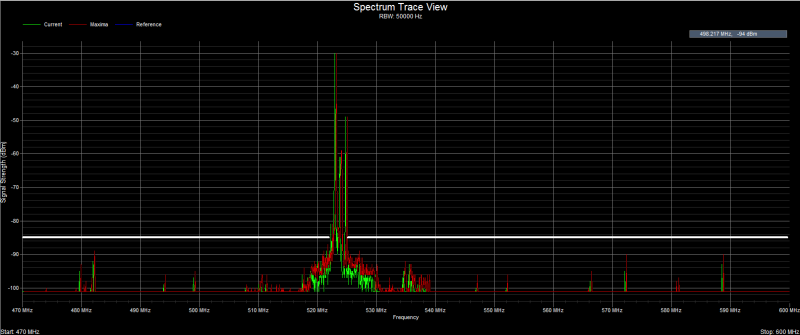 Waterfall History / Heatmap


Monitored Frequencies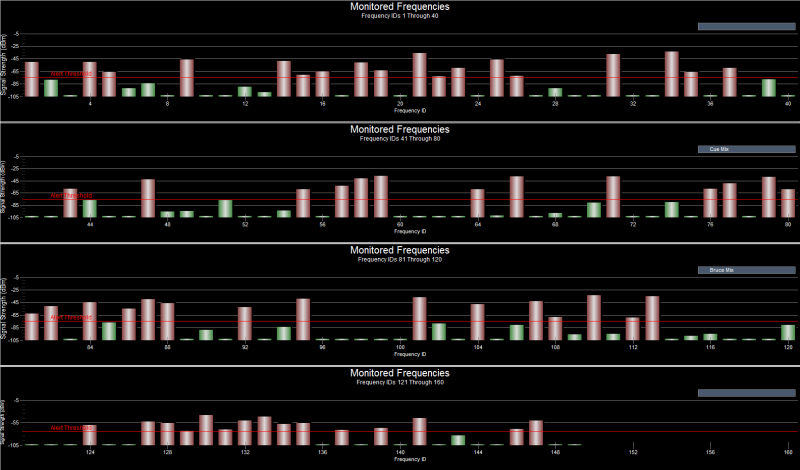 White Spaces and Intermod-Compatible Frequencies


Density Chart


Delta Trace