Rational Waves -- MacOS Support
Rational Waves is a Windows application that runs natively on the Windows operating system -- such as Windows 10. However, running a VM (virtual machine) within the MacOS that hosts the Windows operating system allows Rational Waves to be used on a Mac. The 3 most popular VMs for MacOS include Parallels Desktop ($79.99 USD), VMware Fusion ($149 USD) and VirtualBox (free). Once Windows 10 is installed and hosted in one of these VMs, then you can install and run Rational Waves as if it were running on the Windows operating system.  For the purpose of running Rational Waves on MacOS, all three VMs work fine. If you have other needs then one VM might be more suitable than another -- we'll leave that choice up to you.  Below we provide instructions for installing Parallels Desktop, along with Windows 10, on your MacOS machine.
Install Parallels Desktop on MacOS
1. Download the Parallels Desktop installer to your Mac.
2. Mount the *.dmg installation file to Finder and then double-click Install.
3. After reading the Software License Agreement click Accept.
4. When prompted, enter your Mac user password to complete the installation.
Activate Parallels Desktop
1. Start Parallels Desktop by double-clicking its icon.
2. From Parallels Desktop's dropdown menu select Account & license.
3. Sign in to your Parallels Account by entering your Email and Password.
4. If your activation was successful then you'll see a confirmation message.
Install Windows 10 in the Parallels Desktop VM
1. When you first launch Parallels Desktop on a Mac it will detect that there are no VMs and will automatically offer to download and install Windows 10. You can install a version of Windows 10 that is sufficient to run Rational Waves without actually purchasing Windows 10.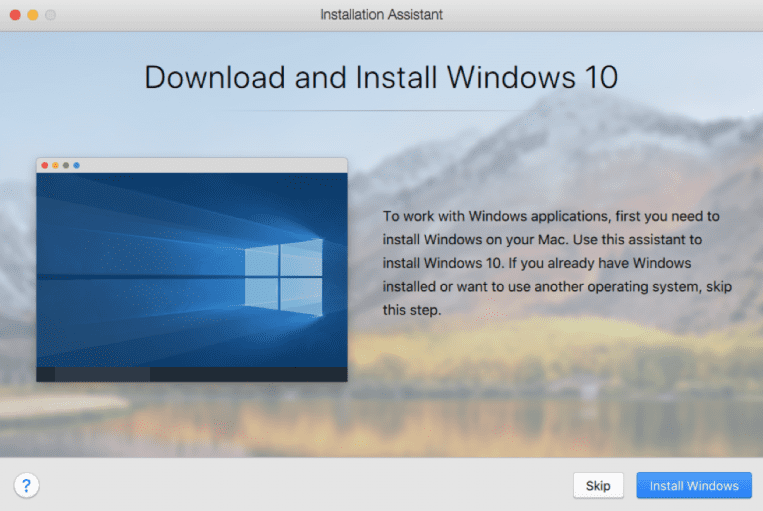 2. Once you click "Install Windows" there is nothing else to do. The Windows 10 installation files will begin downloading.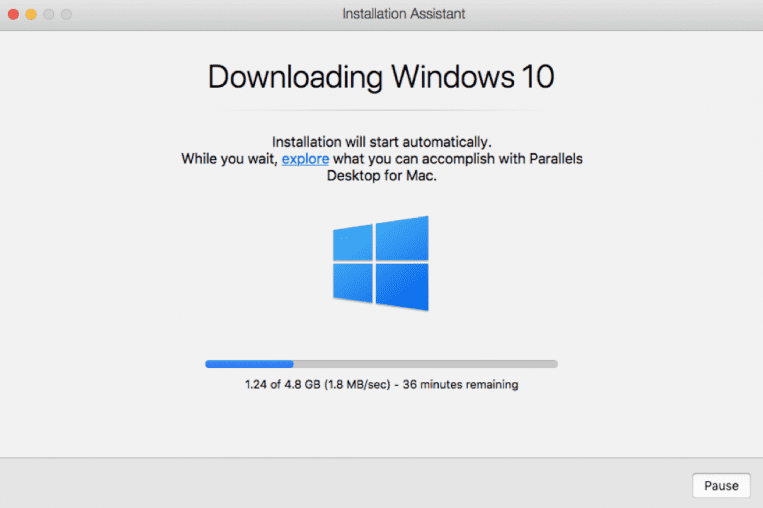 3. Once the download finishes, the installation of Windows 10 into the new Parallels Desktop VM will begin. Depending on your Internet connection, this process takes up to 2 hours -- you will be notified when it completes.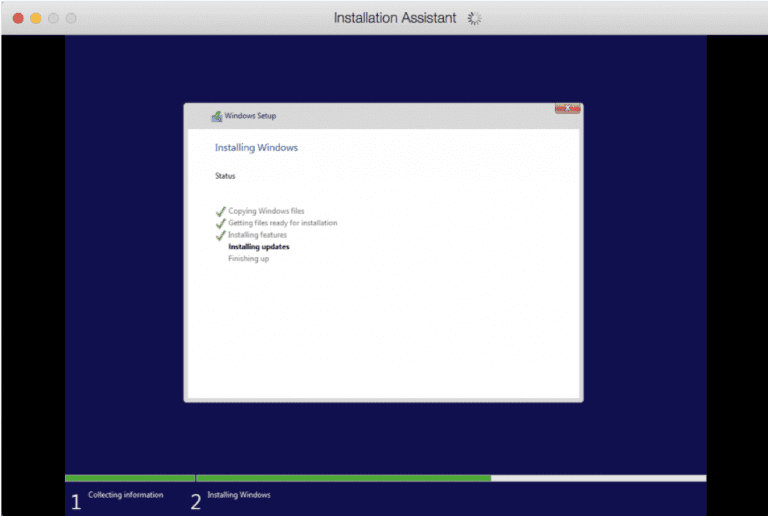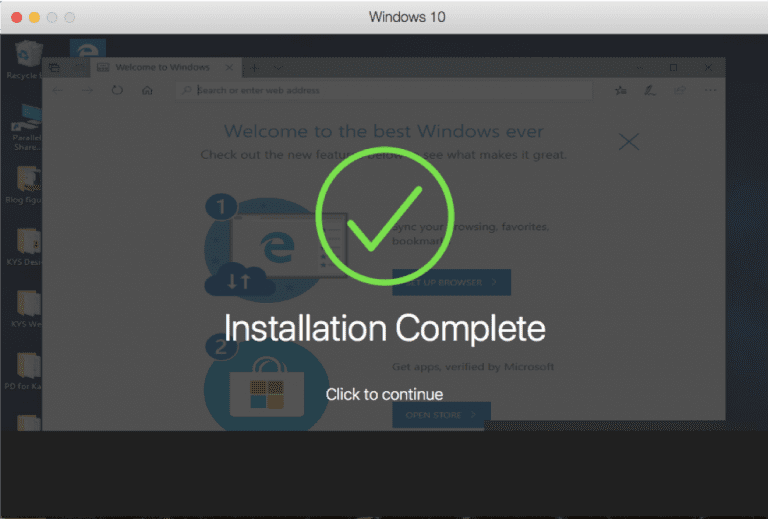 4. After Windows 10 is installed it is then recommended to get all of the available Windows updates.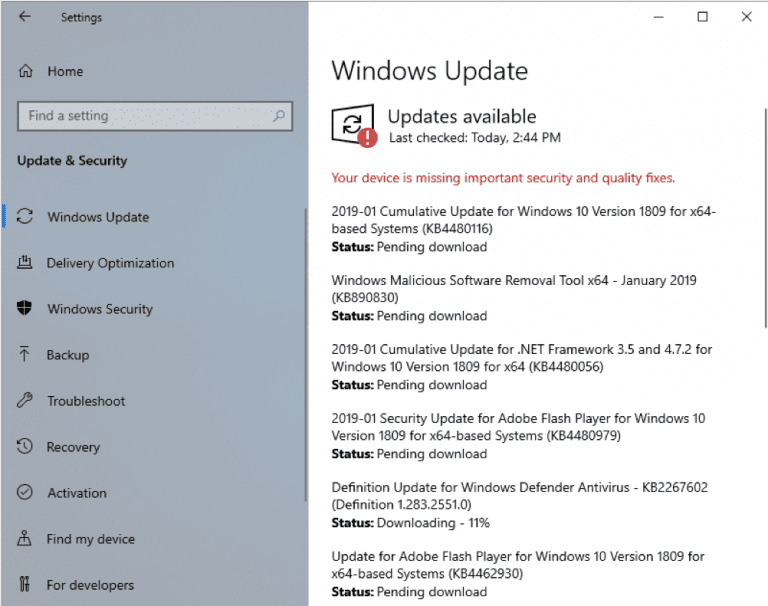 5. At this point you have a working installation of Windows 10 in a Parallels Desktop VM -- yet, you have not purchased Windows from Microsoft. Other than a few missing features and a watermark in the lower-right corner, Rational Waves runs fine in this "water-marked" verion of Windows.
Install Rational Waves in Windows 10
1. With Windows 10 up and running, download and run the Rational Waves setup program as you would any other application installer.
2. As you go through the Rational Waves setup you will reach a point where it is necessary to choose and install the driver for your RF analyzer. The current choices are RF Explorer, RTLSDR, and Pluto SDR.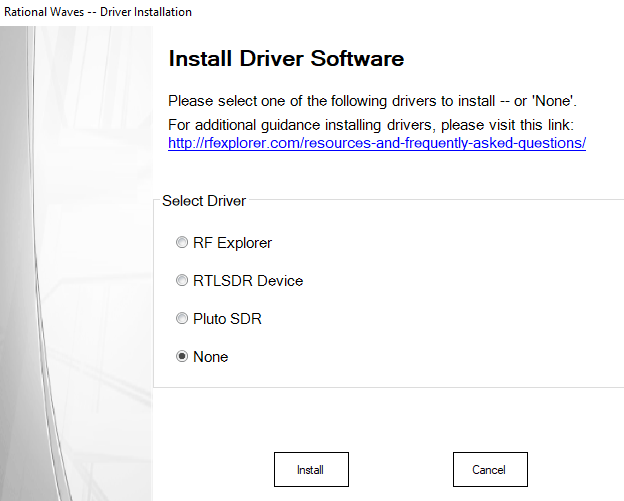 Please note that RTLSDR is a special case because it needs to be passed through to the Parallels VM >> BEFORE << installing the drivers.
Connect your RF analyzer to the Parallels Desktop VM
1. Directly attach the USB device (i.e. RF analyzer) to your computer -- do NOT use a USB hub.
2. On the menu bar, click Devices -> USB & Bluetooth -> and select your RF analyzer. Below are examples for RF Explorer, RTLSDR and Pluto SDR.
RF Explorer


RTLSDR


Pluto SDR


Launch Rational Waves
1. You are now ready to launch and run Rational Waves.